1,184
views ❘
8 hours ago
❘ Author: dream pixel
There is never enough food. Especially in Minecraft. Foods Plus 2 Addon (1.19) is a complete overhaul of the original, featuring tons of new foods, mobs, crops, blocks, and more. Additionally, This addon is also compatible with most other addons, and it's survival friendly as well.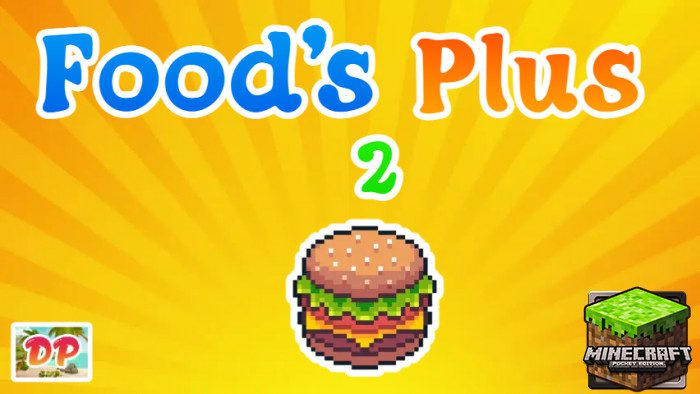 Features:
This action-packed addon features tons of new crops, foods, blocks, and more!
If you are a fan of the original foods plus addon, you'll most likely like this one too.
(Before using this addon, be sure to enable both "Holiday Creator Features" and "Custom Biomes".)
29+ New Crops
New trees
New blocks
40+ new foods!
More Mobs!
New Foods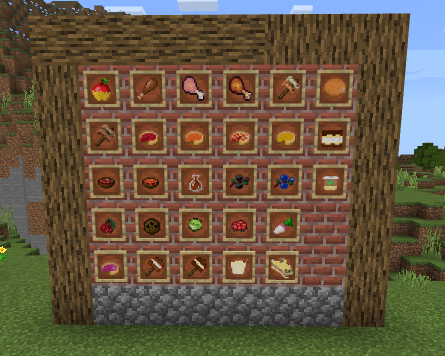 This addon comes with tons of neat new foods to mess around with! with more being added in the future
How to cook and craft
Crafting
Some food will need to be crafted, to do this just go into a crafting bench and hit the toggle on the top left and it should show you all the recipes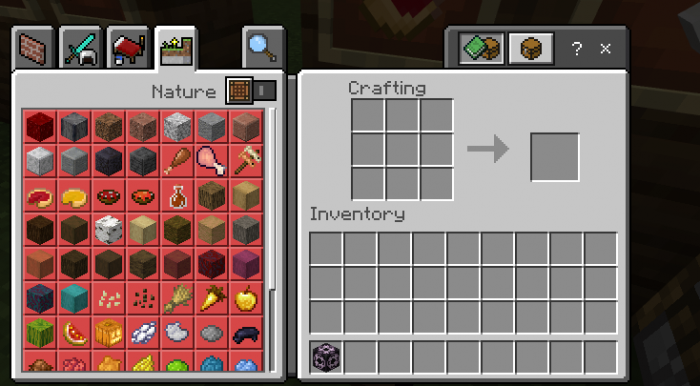 How to cook
The food has to be cooked using a smoker.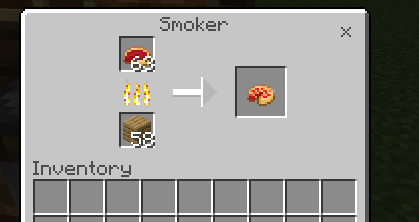 Roasting
Some foods, such as kabobs and smores, for example, have to be cooked over a campfire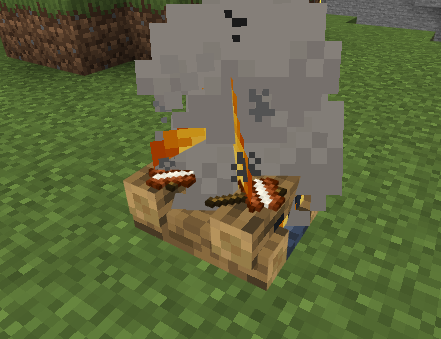 Overview of the foods
Much like the original, this version contains a ton of different varieties of food from both fiction and real life!
All of the foods can be gained either from survival or creative, here is a short overview of some of the foods featured in this mod.
Kabobs
Kabobs! these guys can be crafted in a crafting bench, then you can roast them over a campfire.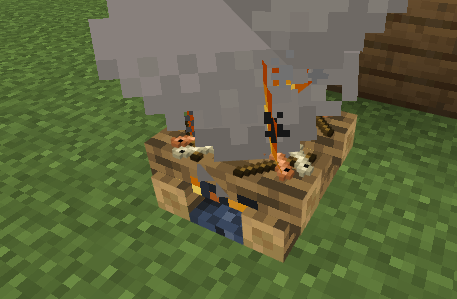 Pies
Pies have to be crafted and then baked! they provide a lot of saturation

Fruits and veggies
All the fruit and veggies can be found in the "crops" section in the creative menu. these foods are grown from the various crops featured in this addon.

Farming
This mod comes with some neat crops! they all have a Semi-Vanilla look to theme and range from simple 2d crops to 3D ones as well! and best of all these new crops don't require a geometry fixer to work.
The various seeds can be gained by trading with the wandering farmer.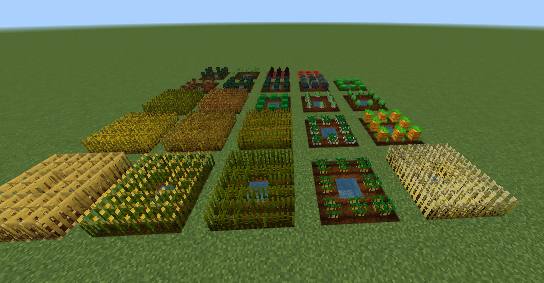 Each crop has 4 different stages, similarly to vanilla crops, once they are fully grown they typically change to a darker color and are bigger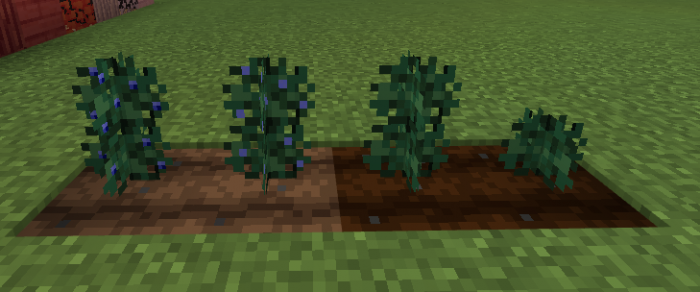 Other crops
Nether Berries
Nether Berries only grow on the nether rack! they will give you nether berries once they are harvested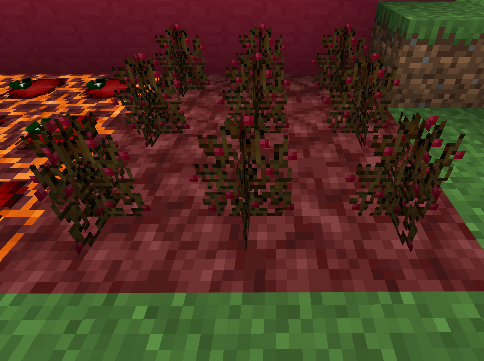 Lava Lilly
Lava lily only grows on magma blocks, they will give you magma flowers when they are harvested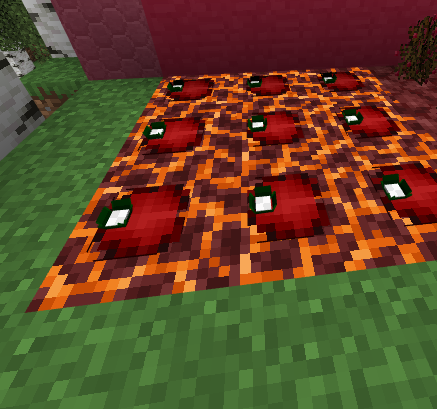 Tree's
Everybody's favorite plant, these guys are grown from saplings and can also grow fruit as well.
Here's a simple overview of the new trees featured in this addon:
Maple Trees
You can harvest their leaves and turn them into maple syrup on the crafting table! Additionally, you can also craft some new planks from their logs as well.
The logs can be crafted into red planks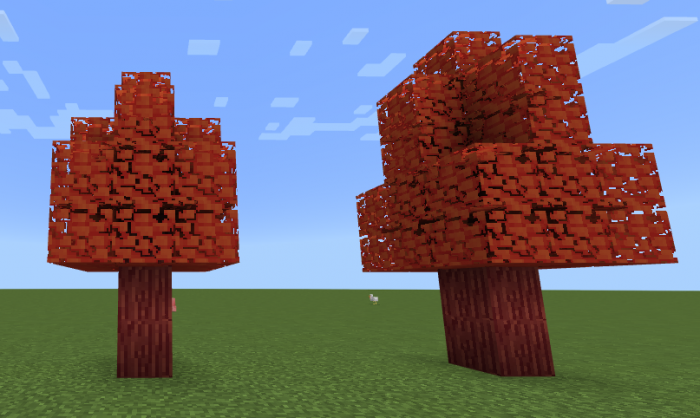 Cherry Blossoms
Cherry blossoms can grow cherry's!
They can also be cut down and turned into pink planks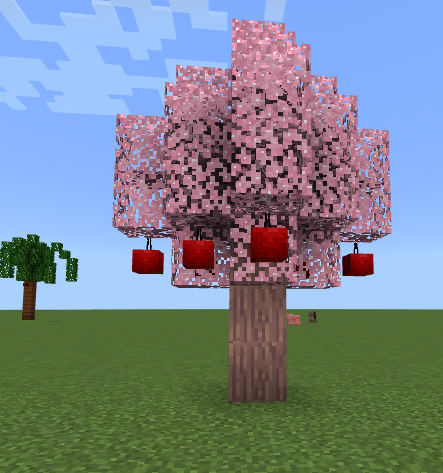 Palm Trees
These trees, come in many different sizes, they can be planted using saplings and will grow coco-nuts to.
Their logs can also be turned into a neat tropical brown color, also note that due to the sheer size of the palm trees, when you place their sapling and the tree grows there's a chance it can destroy some of the nearby blocks, so make sure to place these in a wide open field to avoid any damage.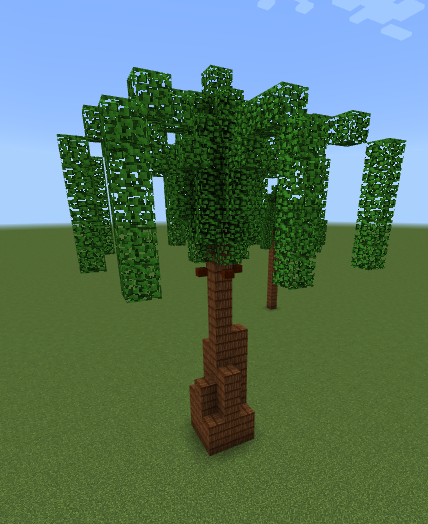 Soul Trees
These trees only grow on soul sand, soul soil, and dirt! once they are grown they will grow soul fruit. Their roots can also be used to craft soul lights.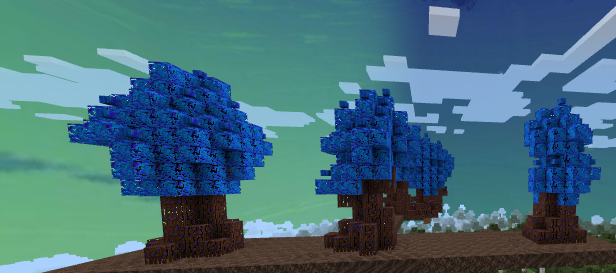 New Mobs
This addon also features some new mobs! at the moment they are mostly for aesthetics, however, more uses will be added in the future
Butter Flys
These are aesthetic mobs, meaning that they are mostly just for looks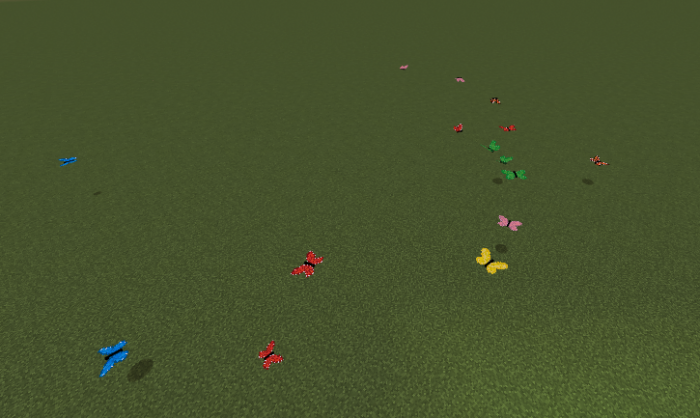 They can also be tied to a lead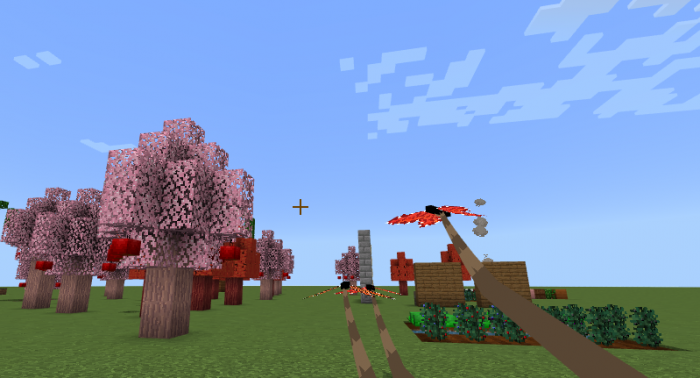 Wandering Farmer
The wandering farmer can be found wandering around in the overworld! you can buy various seeds and saplings from him.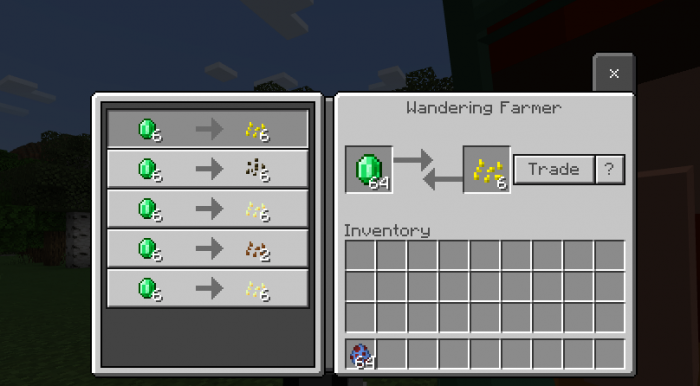 New blocks
They can be used to build new structures and other things

Other ways to get items
Commands
You can get the items by using commands, "example: /give @s foodsplus2:"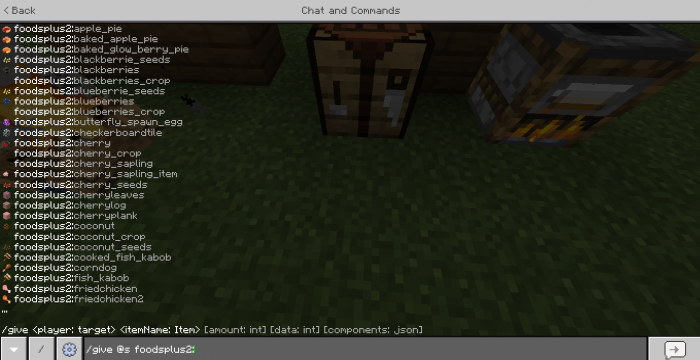 Where to find things in the creative menu
All of the foods can be found in the "nature" section of the creative menu, however, some items such as seeds and crops can be found in their own categories as well.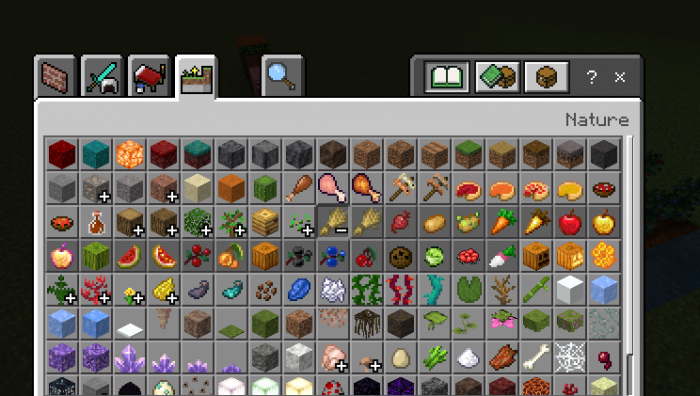 Installation Note:
Before using this addon, be sure to enable both "Holiday Creator Features" and "Custom Biomes".
How to install:
How To Install Mod / Addon on Minecraft PE
How To Install Texture Packs on Minecraft PE
How To Install Map on Minecraft PE
Foods Plus 2 Addon (1.19, 1.18) Download Links
For Minecraft PE/Bedrock 1.19, 1.18
mcaddon: Download from Server 1 – Download from Server 2