Minecraft Bedrock 1.19 is a version of the game released for the Bedrock Edition of Minecraft, which includes Windows 10, Xbox, PlayStation, Nintendo Switch, and mobile versions. Minecraft Bedrock 1.19 Mansion Seeds are known for their size and complexity, with multiple rooms and floors, and can be difficult to locate and navigate.
These structures are home to the Illager, a type of hostile NPC. Players can use a seed to find a Woodland Mansion in Minecraft Bedrock 1.19. A seed is a sequence of numbers that determines the layout of the game world and can be shared between players to explore the same world and locate the same structures.
However, it is worth noting that the generation of the mansion differs between Java and Bedrock, and the structure of the mansion itself is not present in the Bedrock edition about the game.
List of best Minecraft Bedrock 1.19 Mansion Seeds
Tarzan's Mansion
Seed code: 275180360
Jungle Mansion: 568 -664
Trail Mansion #1: 4376 4040
Trail Masnion #2: 9208 7000
Trail Mansion #3: 13320 9176
Trail Mansion #4: 13320 14856
Trail Mansion #5: 18584 19768
Twin Mansions: 23688 -9704, 24568 -10888
Anyone familiar with spawning worlds in Minecraft knows that Mansions have specific rules for spawning on a map. It is almost impossible to find one surrounded by the jungle. This makes this seed special because not only is there a mansion in a jungle, but also next to the spawn.
That's a wonderful start to an adventure, but one of the fascinating parts about this seed is that about 23,000 blocks from the spawn are two mansions a few hundred blocks apart! Lastly, a Mansion trail to the southeast includes five Mansions in 20,000 spawn blocks.
Mountain Village City Mansion
Seed code: -6709148406763899126
Village: 88 72
Ancient city: 104 152
Village: -248 -280
Village: -856 -392
Village: 280 -808
Spawns in a majestic mountain ring in this seed that houses both a village and a manor, two sides protecting a secret deep and dark beneath the surface. The Mansion near spawn is directly above an Ancient City.
However, with your help, the nearby village can overtake the manor, and all three can provide great resources to start a majestic minecraft adventure.
twin mansions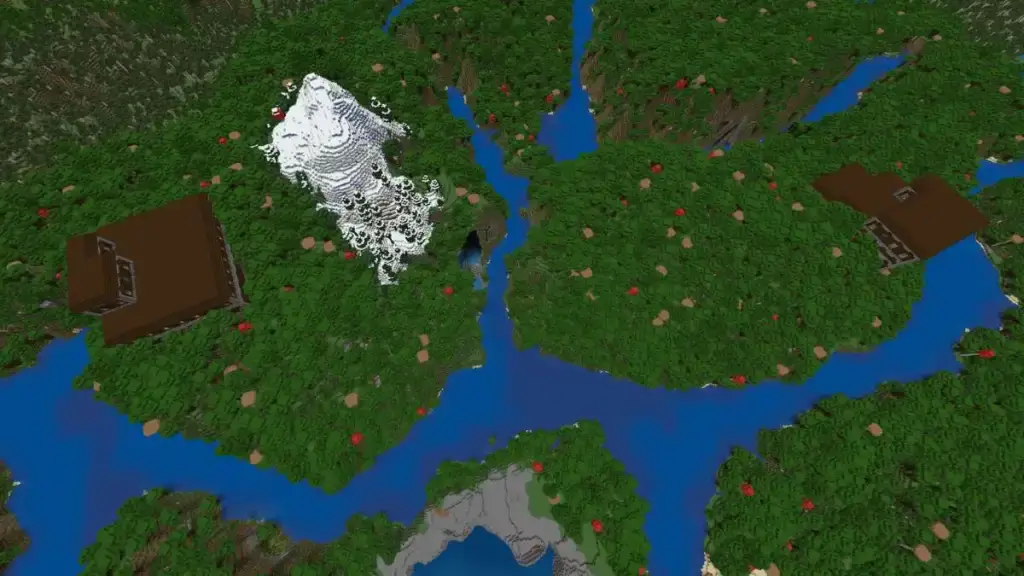 Seed code: -521592599
Mansion: -616 -1176
Mansion: -408 -1640
Jungle Temple: 360 -136
Village: 216 -1400
Ocean Monument: 206 -1832
Although the closest Mansion to spawn in this seed is over 1,000 blocks away, you'll find the trek well worth it. The nearest mansion sits on a beautiful section of land, complete with a Snowy Mountain Peak, a river that branches off in multiple directions, and cave formations too fascinating to ignore.
Best of all, you'll find a second mansion just 400 blocks from the first! It really is a rare circumstance for two Forest Mansions to appear so close to each other, so this is not a seed you should pass up!
hilltop mansion
Seed code: 8270990276491185680
Mansion: 56 8
Marauder Outpost: 104 56
Plains Village: 88 104
Drip Cave: -104 -8 -8
This is one of those seeds where you not only find a Mansion, but spawn directly on top of it! Taking a closer look at the surroundings from the roof of the Manor will expose you to a beautifully designed village complex, complete with a Pillager Outpost in the same vicinity.
To top it off, you soon realize that this whole area sits on top of a giant hill, surrounded by rivers flowing on all sides. All in all, this is one of the best general seeds if a mansion with other amenities is what you're looking for.
Mansion Island Envy
Seed Code: -8854940294269027445
Mansion: -696 1336
Island Mansion: -648 904
Village: 312 -360
Village: -344 -344
Village: -440 168
This is a double mansion minecraft seed where you spawn just a few hundred blocks away from two opposite mansions. A mansion sits on a small island, flaunting its prestige and wealth; the other is confined to the mainland. If you want a perfect island getaway, this is the map for you!
Minecraft Bedrock 1.19 Mansion Seeds Frequently Asked Questions (FAQs)
Here are the top frequently asked questions about Minecraft Bedrock 1.19 Mansion Seeds:
Top Minecraft Bedrock 1.19 mansion seeds
We are happy that you are interested in exploring different seeds in Minecraft! Finding new and interesting seeds is a great way to discover new parts of the game world and experience different types of biomes and structures.
If you have particularly interesting or unique seeds, feel free to share them with others in the Minecraft community. This can be done through online forums, social media groups or even sharing them with friends who also play. Sharing seeds can also be a great way to collaborate on building projects or exploring different parts of the game world together.